10 BEST Things to Do in Orlando, Florida
10 BEST Things to Do in Orlando, Florida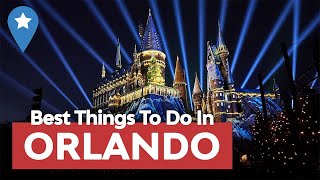 Orlando Florida is best known for its exciting theme parks, perfect weather, and gorgeous lakes.With entertainment and activities for all ages, Its no wonder this city attracts over 60 million visitors every year! From roller coasters to rocket ships, let's discover the 10 best things to do in Orlando!
✅ Subscribe to us ➥ https://www.youtube.com/channel/UCYh0Ti9oEkKIixNIQ5qn7wA?sub_confirmation=1
🔔 Turn on notifications to never miss a new upload!
Read our article on "Best Things To Do in Orlando" for more information: https://wheninyourstate.com/florida/10-best-things-to-do-in-orlando/
Follow WHEN IN FLORIDA:
🔥 Facebook: https://www.facebook.com/wheninflorida1/
🔹 #10 Wizarding World of Harry Potter
🔹 #9 Sleuth's Mystery Dinner Show
🔹 #8 Discovery Cove
🔹 #7 Madame Tussauds Orlando
🔹 #6 Indoor Skydiving
🔹 #5 Ripley's Believe It or Not!
🔹 #4 The Wheel at ICON Park
🔹 #3 Disney Springs
🔹 #2 Kennedy Space Center
🔹 #1 Universal Studios Orlando
#BestThingsToDo #Orlando #Florida #WhenInYourState