10 Best Things to Do in St. Petersburg, FL
10 Best Things to Do in St. Petersburg, FL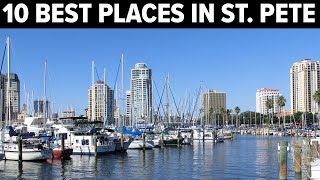 The Top 10 Things to Do in St. Pete:
0:49 Tropicana Field
Tropicana Field is the home field for the Tampa Bay Rays! It is the only domed MLB stadium in the nation – perfect for those unavoidable summer showers. Make sure to visit during a home game so you can interact with the live rays in the touch tank!
https://www.mlb.com/rays/ballpark
1:38 3 Daughters Brewing
3 Daughters is one of the most popular breweries in Florida. You've probably seen their beer in stores – it can be found throughout the state! 3 Daughters sells food and has a ton of games and activities, so you'll be entertained whether you're there to enjoy a beer or not!
2:20 St. Pete Beach
Ranked the #4 best beach in the country, you can't miss St. Pete Beach! With clear water and white sand, you'll enjoy the picturesque beach experience that Florida is known for. Plus, it's a little quieter than other beaches in the area, so it's a great spot for families and anyone looking for a relaxing day by the water.
http://www.stpetebeach.org/
3:04 The Vinoy Renaissance Resort
The Vinoy is an iconic, beautiful building in downtown St. Pete. If you're looking for luxurious accommodations during your visit, look no further! With tons of amenities as well as convenient access to the best of St. Petersburg, you won't find a better place to stay.
https://www.marriott.com/hotels/travel/tpasr-the-vinoy-renaissance-st-petersburg-resort-and-golf-club/
3:42 The Canopy
No city is complete without a rooftop bar – and The Canopy is St. Pete's finest! Boasting an incredible view of the bay, this is one of the best places in the city to enjoy a cocktail as well as the St. Petersburg landscape. You'll find ample seating, cabanas and fire pits, making this a great stop for any time of year.
4:17 Vertical Ventures
Vertical Ventures is an indoor rock climbing gym, perfect for all ages! There is something for everyone here, no matter your experience with climbing. The enormous facility also offers fitness and yoga, if you'd like to participate without getting too far off the ground!
https://stpete.verticalventures.com/
4:53 Engine No. 9
Considered one of the best burgers in the state, and winning various "best burger" awards every year since opening in 2012, Engine No. 9 is a must. The casual sports bar environment is perfect for catching a game – especially Tampa Bay Lightning Hockey! Pick any of the 20+ burger options on the menu – you won't be disappointed!
https://www.no9burgers.com/
5:33 The Dali Museum
One of the premier art attractions of the city, the Dali Museum features the single largest collection of work from renowned artist Salvador Dali. The building is even a work of art in itself! Soak in the architecture, sculptures, paintings, outdoor garden and other points of interest at this scenic location.
https://thedali.org/
6:11 Rococo Steak
Rococo Steak is one of the best fine dining options in St. Petersburg. Here, you'll find delectable steak and seafood dishes in an upscale environment. Rococo Steak also has an astonishingly impressive selection of wines. For exceptional food, service and atmosphere, don't overlook Rococo Steak.
7:01 The Galley
If you want to experience St. Pete like a local, you have to stop in at this nautical-themed tavern. The Galley has a warm and inviting feel, and keeps guests coming back with their extensive drink options and delicious food items! With events going on every week, it's always a good time to stop by.

If you're interested in trying to live a more sustainable lifestyle, check out some simple tips from our friends over at Greenable.
https://bit.ly/34lkyvH