11 Best Things to Do in Tampa Florida
11 Best Things to Do in Tampa Florida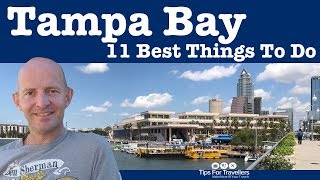 Tampa Bay is possibly one of the most ignored places in Florida by visitors. It is the state's third largest city but people tend to think of visiting places like Orlando, Miami, Florida Keys or the beaches at places like Clearwater and St Petersburg. I was invited to Tampa to see if I thought travellers were missing out by not including the Tampa Bay area in any Florida trip. I found the city was very dynamic and had a lot going on. In this video I share the 11 very best things to do and see while in Tampa. I had five days there and had so much to do. Discover what it has to offer and see if you should be considering adding it as a destination or part of a wider Florida trip.
I would love you to give the video a "thumbs up" and if you subscribed to the channel.
Every week Gary Bembridge's Tips For Travellers Channel posts a video to help you make the most of your precious travel time and money on both land and at sea. First-hand travel inspiration, advice and tips based on the over 20 years I have been travelling every month.
Follow me on these social media platforms:
– YouTube: http://bit.ly/TFT_YouTube2
– Instagram: http://www.instagram.com/tipsfortravellers
– Facebook: http://www.facebook.com/tipsfortravellers
– Twitter: http://www.twitter.com/garybembridge