129 Buena Vista Dr S Dunedin Fl – The Kellogg Mansion Offered at $4,500,000
129 Buena Vista Dr S Dunedin Fl – The Kellogg Mansion Offered at $4,500,000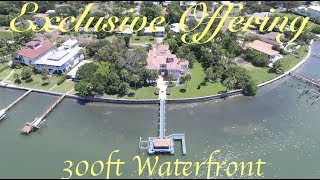 Presented By The Moeller and Barber Real Estate Team
Coastal Properties Group Florida, LLC an Affiliate of Christie's International Real Estate
There are only a few times that come along to own history, elegance, and 300 feet of waterfront. Built at the height of the Roaring Twenties, this timeless jewel with spectacular panoramic views of St. Joseph's Sound is affectionately known as the "Kellogg Mansion."
The Estate's Mediterranean Revival Style features an eclectic blend of motifs from Spanish Colonial architecture infused with rich design elements characteristic of the Spanish and Italian Renaissance. Elegantly appointed, exquisite details throughout such as the hand painted murals commissioned by WK Kellogg, hand carved wood coffered ceilings and one-of-a-kind stained glass windows demonstrate the opulence and luxury of the period. Built as a Coastal playground and winter home, the refined interiors and superb period finishes enhance the richness of character and magnificence of this luxurious estate.
An Ultra-private retreat with sound proof rooms and secret passageways, the nearly 8000 sq ft residence is also the ultimate setting for large scale entertaining, with features such as an elegant Antique Bar and Game Room, Media Room with a glass domed ceiling and a Disco. The picturesque lush tropical grounds are a perfect backdrop for outdoor galas, and the 300 ft seawall with it's massive dock big enough for a 120 ft yacht will accommodate all your guests. Experience the splendor of exceptional living in this remarkable work of art that is Kellogg Mansion.
Thank you for watching this video. I hope that you keep up with the our series of videos we post on the channel. Subscribe and share your learnings with those that need to hear it. Your comments are so very valuable to the journey and community we want to create, so please take a second and say…HELLO. We want to connect with you.
—-
Follow US Online Here:
Moeller and Barber Team Instagram: https://www.instagram.com/moellerbarb…
Moeller and Barber Team Facebook: https://www.facebook.com/moellerandba…
Moeller and Barber Team Website: http://moellerandbarberteam.com/
Robert Barber Instagram: https://www.instagram.com/robertbarbe…
Robert Barber Facebook: https://www.facebook.com/robert.l.barber
Robert Barber Snapchat: https://www.snapchat.com/add/rbarberfl
Robert Barber Twitter: https://twitter.com/robertlbarber
PinellasLive Facebook: https://www.facebook.com/pinellaslive/