21 Secrets & Things to do in Miami, Florida
21 Secrets & Things to do in Miami, Florida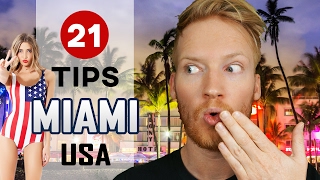 Ultimate Miami Travel Guide! These are my carefully selected 21 hidden secrets, things to do and best places to visit in Miami which I've visited 4x times including Underwater Hotel, Scuba diving, Jet-skiing, eating stone crab, eating Alligator, Lock & Load and the Miami Nightlife with its amazing nightclubs and bars. Subscribe to my channel ► https://bit.ly/2aeuh9b for weekly videos!
Next Episode: Miami Nightlife

Take the Miami SUPER Tour for ONLY $59 USD
http://bit.ly/2KxUd5v 50% discount
Download my FREE map for Miami:
http://www.reformatt.com/21-hidden-secrets-miami
My Miami travel guide includes things to do in Miami and where to visit during your stay in this ultimate Florida experience.
Too many boring travel guides are available these days for Miami and sadly are mostly all the same, that's why I dug deep into this city to bring you the best hidden spots.
The places featured in my detailed video above are organized from the morning, afternoon towards the evening and nightlife so you can make the best out of your days in Miami.
Miami can be very expensive if you don't know what you are doing but luckily there are some FREE things to do as well, like the Lincoln Parking deck view or sneaking into the Mondrian or Spa Standard Hotel to observe their gorgeous pools.
I personally recommend going all out because there are so many amazing things to do you do not want to cheap-out, saving up a few months extra will be worth every penny in the end. A very-rough budget for 1 awesome week per person would be around a $500 flight, $500 AirBnB and $1500 for Uber, shopping, food, events, museums & night time party = around $2500 to start.
Miami very widespread with many districts from Miami South Beach, which is its own peninsula, to the Wynwood Art District. Split up your days by having 2 days in Miami South Beach to visit Ocean Drive, Espanola Way and Lincoln Road. Spend the other days on day trips to downtown Miami, Wynwood, the Florida Keys and the incredible Everglades.
My favorite way to explore a city is by jogging, you'll be surprised as to what you may find. A few of these photos where taken at places I randomly walked into, places you will never see on a guided tour.
Besides great hidden attractions; Miami also offers amazing restaurants like Sylvanos, great Italian cuisine at affordable prices and NaiYara, voted the best restaurant in Miami South Beach offering Thai-Japanese fusion cuisine with dishes like freshly made beef jerky, salmon tacos and ultra fresh sashimi. Try a piece of Ootoro (Blue fin tuna belly) sashimi before leaving! You won't regret it.
Miami has many incredible pools but the ones that truly stand out is the infinity pool at the Spa Standard Hotel and the pool at the Mondrian Hotel visit these pools in combination with doing an Art Deco tour of Miami South Beach with places such as the Delano, Colony Theater, the Carlyle and Breakwater.
I would love to know if my article was helpful and if so, please leave a comment below and let me know which place seems most interesting to you? Or let me know if you want more information about a specific place I mentioned.
Do you want more travel tips for Miami, Florida?
– Swim with Dolphins at the Miami Seaquarium.
– Take a day trip to the Everglades National Park and jump on an Airboat to see hungry alligators.
– Feast on the best burger in town at Shake Shack.
– Do not miss a Miami Heat basketball game at the American Airlines Arena, one of the most popular sports in the USA.
– Avoid touching the blue looking jelly fish on the beach, these are Portuguese man o' war and poisonous.
– Sriracha House, for the best after party food in Miami.
or Pizza Rustica, Miami's #1 pizza in town.
BONUS:
– Weird American Junk Food Review (next week)
My YouTube Setup
Sony Alpha a5000 http://amzn.to/2pbgtlt (my main camera)
Sony DSCHX80 http://amzn.to/2peh5I1 (my secondary camera)
GoPro Hero Session http://amzn.to/2p2pmmh (my underwater camera)
Audio Technica AT2020 http://amzn.to/2pelCdq (my microphone)
Neewer MicArm http://amzn.to/2pLhin4 (my microphone arm)
LimoStudio Kit http://amzn.to/2pLdG4o (my lighting kit)
AudioTechnica Label mic http://amzn.to/2pb1RCA (my clip-on microphone)
Green Screen http://amzn.to/2q4pr96 (my background drop)
Support my channel and become a subscriber!
Please share this video with your friends to help out my show
YouTube ► http://youtube.com/reformattshow
Instagram ► http://instagram.com/reformatt
Facebook ► http://facebook.com/reformatt
Twitter ► https://twitter.com/reformatt
Thanks for all your support, please give this video a giant LIKE and leave a comment below!