Behind The Scenes At America's Most Famous Butcher | Legendary Eats
Behind The Scenes At America's Most Famous Butcher | Legendary Eats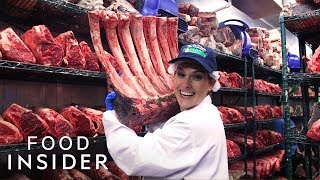 Pat LaFrieda Meat Purveyors is the 100-year-old butcher shop responsible for the Shake Shack burger and NYC's most coveted steaks. Producer Spencer Alben catches up with CEO Pat LaFrieda, Jr. for a behind-the-scenes tour of their production facility, and learns how this third-generation family business not only survived the ages, but managed to become America's most famous butchery.
——————————————————
#Butcher #Meat #FoodInsider
INSIDER is great journalism about what passionate people actually want to know. That's everything from news to food, celebrity to science, politics to sports and all the rest. It's smart. It's fearless. It's fun. We push the boundaries of digital storytelling. Our mission is to inform and inspire.
Subscribe to our channel: http://insder.co/Food and visit us at: https://insder.co/2NCg6Sg
FOOD INSIDER on Facebook: https://insder.co/2O4gt7A
FOOD INSIDER on Instagram: http://insder.co/2aywJtk
FOOD INSIDER on Twitter: https://insder.co/2IahHsi
INSIDER on Snapchat: https://insder.co/2KJLtVo
Behind The Scenes At America's Most Famous Butcher | Legendary Eats