BMW INVASION Of Melbourne Florida – "Behind The Scenes" Vlog
BMW INVASION Of Melbourne Florida – "Behind The Scenes" Vlog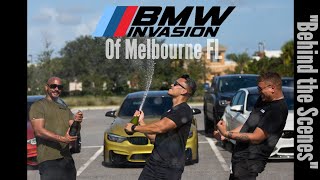 BMW INVASION of Melbourne Florida has been in the works for months. In this video, I take you behind the scenes of the whole event. I take you guys from the start, early morning to the very end of the event. At BMW INVASION of Melbourne FL we had a car show that showcased some of the most unique BMW's from all across the East Coast of the United States.
My intentions, is to make the viewers feel as though they were there or relive some of those moments again. We also take another look at the Active Autowerke's Equal Length Midpipe for the S55 engine that was showcased at the Exhaust Competition.
Myself and The TEAM at BMW INVASION want to thank you all for coming out to our first car show. You guys truly have been extremely supportive of this movement. We hope to see you guys at our next event. HUGE THANKS To EUROMOTIVE PERFORMANCE for always believing in BMW INVASION!!
Stay tuned for the "Movie" that Baca will be producing.
(You are Free to use this video, Just Give Credit to my team and I)
Washing My F80 M3 Before BMW INVASION of Melbourne FL

I documented this whole weekend in a few videos below:
Best Car Detailing Products To Bring To A Car Show

Truck Almost Destroys My F80 M3 – The Day Before BMW INVASION of Melbourne FL

www.BMWINVASION.net
Camera Equipment I use :
My New Camera
https://amzn.to/3fkQFxl
(One of the highly rated Vlogging Cameras)
https://amzn.to/2JypIcd
GoPro
https://amzn.to/2YfnLJu
Lavalier Mic
https://amzn.to/2wLJDBK
Mic Adapter for GoPro
https://amzn.to/3l19qdq
50 MM Lens (B-Roll Lens)
https://amzn.to/2R3Buzh
Lens Adapter for 50 MM Lens
https://amzn.to/2yYp0To
Mic for Camera
https://amzn.to/2XEO38p
Micro Mic for Camera
https://amzn.to/2xBnq9r
Micro Mic Wind Muff
https://amzn.to/3co2TUV
Best Camera Bag under $35.00
https://amzn.to/2K6twSl
Gimbal
https://amzn.to/3etFGCq
Drone (Best Bang For Your Buck)
https://amzn.to/34dnMiZ
If you guys like this video, consider subscribing and hit the like button. It really helps small channels like this reach out to others 🙏.
Music Credits :
Infraction – Catch Me

Infraction – Falcon

SKIRK – Portal

Lo-Fi Chill Beat, Hip Hop, Vlogs [No Copyright Sound] [ FREE USE MUSIC ] – Tokyo Music Walker – Memories of Spring

Punch Deck – Illuminate

Sappheiros – Spirit

Inossi – Revive
https://www.youtube.com/watch?v=JcsU6Nhk-Uc
DISCLAIMER: Links included in this description might be affiliate links. If you purchase a product or service with the links that I provide I may receive a small commission. There is no additional charge to you! This allows myself to produce quality content and upgrading my video quality. I really appreciate it.