Dishwashers: "The craziest are always going to be in the dish pit" | Dish Pigs
Dishwashers: "The craziest are always going to be in the dish pit" | Dish Pigs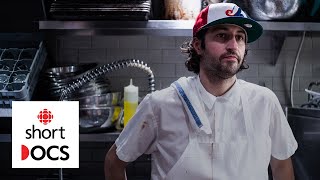 From five-star restaurants to dirty dives, the most compelling stories come from the dish pit. Meet three Montrealers who choose to wash dishes for a living. #CBCShortDocs #DishPigs
• • • • • • • • • • • • • • • • • • • • • • • • • • • • • • • • • • • • • • • • • • • •
In a city known for nightlife and haute cuisine, Dish Pigs tells the untold stories of dishwashers in Montreal. Through intimate first-person accounts and gritty visual storytelling, the film unearths the deeper truths about the working-class economy that lie just beyond the doors of your favourite restaurant kitchens.
Our story focuses on the lives of three eccentric dishwashers, each navigating their own day-to-day struggles while working nights in the dish pit.
34-year-old Shawn began working at Montreal restaurant Le Bremner after a family tragedy left his life in ruins in 2016. Under the guidance of Chef Danny Smiles, Shawn is finally putting his life back together.
We meet 61-year-old Claude, a veteran dishwasher — he's been working in the restaurant industry for 40 years. Claude spends his free time acting as his neighborhood's unofficial handyman and helping people in his community with their daily tasks.
Then there's 26-year-old Ali, a Texas native who came to Montreal to broaden her horizons and introduce Montrealers to a whole style of dancing. Ali has a newfound philosophy on life, thanks to her work in the dish pit.
Performing the tasks no one else wants to do — cleaning nasty messes, scraping remnants of people's meals into growing garbage, ensuring chefs have what they need to turn ordinary food into extraordinary meals — one has to wonder: who are these restaurant industry underdogs who choose to clean up our mess? And what makes them tick?
Dish Pigs takes viewers past the cultured atmosphere of fine dining into the dish pit, where the wild antics of dishwashers, sous-chefs and chefs are unleashed as life moves to a different rhythm: rinse, wash, repeat.
More Shows:
http://bit.ly/CBCDocs-WatchMore
Stay Connected:
Twitter: http://bit.ly/CBCDocs-Twitter
Facebook: http://bit.ly/CBCDocs-Facebook
Instagram: http://bit.ly/CBCDocs-Instagram