Exploring Cocoa Beach — What to do in Cocoa Beach for the day
Exploring Cocoa Beach — What to do in Cocoa Beach for the day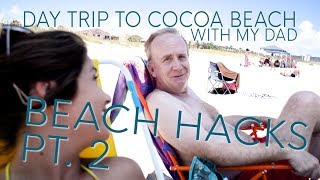 Living in Orlando it is so easy to get to multiple beaches! This summer, during Shark Week, my dad and I decided to hit the beach for the day.
We had an absolute blast at Cocoa Beach and even picked up another beach hack! This trip's teacher got Dad of the Year Award 🥇(maybe? haha)
Also, who do you think won? My dad or Martina McBride? Let him know in the comments just how FANTASTIC of a singer he is (or if he needs to stick to his day job 😉)
After we left the beach we went to play some putt-putt.
This is the place we played at: https://www.golfngator.com/
We had a blast here! There's several challenges to make the course tougher if you are up to try the spinners, they have a cafe with a good selection of bar food and adult beverages.
Can't forget the LIVE gators at this place too! They had so many different kinds of animals that we loved to walk around and look at such as the gators, turtles, iguanas, snakes, and birds!
After we got done with putt-putt we had worked up an appetite! We chose Longboard's Tiki Hut (http://longboardstiki.com/)
This restaurant is actually right as soon as you walk out of the Hilton Hotel to get to the beach. You can snag seats with some awesome views. The staff was fantastic and the food was great! I had the Mediterranean flatbread and it was DELICIOUS! I will definitely be going back to this place to eat!
I hope that you enjoyed our day trip! If you did enjoy this video, please don't forget to hit the "like" button and if you want to see more then please don't forget to subscribe (https://www.youtube.com/user/samikinz4)
Beach Bum – Happy Rock by Kevin MacLeod is licensed under a Creative Commons Attribution license (https://creativecommons.org/licenses/by/4.0/)
Source: http://incompetech.com/music/royalty-free/index.html?isrc=USUAN1100347
Artist: http://incompetech.com/
Video of Great White Shark: https://www.youtube.com/watch?v=GhtBmby_2Vw
Subscribe to https://www.youtube.com/channel/UCgZ_Hb1IfanTAeTv8xQ-GcQ to follow the account who took this incredible great white footage
For the jaws soundtrack music, I used music from: https://www.youtube.com/watch?v=nb8t3Lt8iJw&t=39s