FLORIDA SPACE COAST TRAVEL GUIDE | Cape Canaveral, Florida | Rocket Launches | Cocoa Beach, Florida
FLORIDA SPACE COAST TRAVEL GUIDE | Cape Canaveral, Florida | Rocket Launches | Cocoa Beach, Florida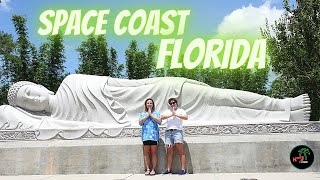 The ultimate travel guide to the space coast of Florida. Cape Canaveral, Cocoa Beach & the home of SpaceX & NASA.
Home to one of the rarest river phenomenons, Bioluminescence. We experience the ultimate bioluminescent experience, nighttime kayaking on the Indian River Lagoon.
We grill on the Banana River & visit Kennedy Space Center. We also visit one of the most unique places, White Sands Buddhist Monastery in Mims, Florida.
Join us on this wild ride – we left our stable home & 9-5 in San Francisco for a life of travel & to build a new life! we are….HONEY, I ROAM!!