FOODIE FRIDAYS | Wassi's Classic Steak Rub & Seasoning Reverse Sear
FOODIE FRIDAYS | Wassi's Classic Steak Rub & Seasoning Reverse Sear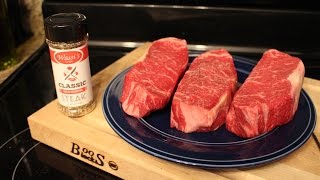 This is a super easy technique that pays big dividends on the flavor scale. Wassi's Meat Market in Melbourne, FL has just released their first rub. It's a Classic Steak Rub & Seasoning. These are available in store in Melbourne, on their website (linked below) and coming to a store near you nationwide!
The reverse sear is the ONLY way to cook a steak. You get more of a consistent cook on your meat. You'll love it and it's super easy!
Enjoy & Share!
INGREDIENTS:
1 Bottle of Wassi's "Classic Steak Rub & Seasoning"
2-4 NY Strips (I used Prime)
ThermoWorks Chef Alarm or Meat Thermometer
Directions:
1. Pull steaks about 20-3o minutes prior to cook to bring to room temperature. This will help cook the steak more evenly as it's not cold in the center.
2. Rub Generous amount of Wassi's Rub on both sides of steak using fingers to really rub the seasoning on the steak.
3. Using In-Direct Heat and the ConvEGGtor, get Big Green Egg to 250º
4. When desired temp has been reached, insert the ChefAlarm into one of the steaks and place on grid. Cook until inside temp is at 110º-115º.
5. Remove steaks, and remove ConvEggtor and open vents to increase Bigg Green Egg Temp to as high as you can get it.
6. Sear both sides of the steaks for approx 30 second per side.
7. Pulls steaks and let sit for 5 min. Cut and serve!
Wassi's Meat Market:
https://www.wassismeatmarket.com/
ThermoWorks:
http://www.thermoworks.com/
Boos Butcher Blocks:
http://www.johnboos.com/
Big Green Egg:
Facebook:
https://www.facebook.com/ZazzaMornings/
https://www.facebook.com/TonyZazza
Instagram:
https://www.instagram.com/ZazzaMornings
https://instagram.com/TonyZazza
https://instagram.com/cheree_radio
Twitter:
Tweets by ZazzaMornings
https://www.twitter.com/Cheree_Radio
Foundation:
http://zazzacommunity.org/