Four Points Sheraton Cocoa Beach & The Cocoa Beach Surf Company (Tour and Review)
Four Points Sheraton Cocoa Beach & The Cocoa Beach Surf Company (Tour and Review)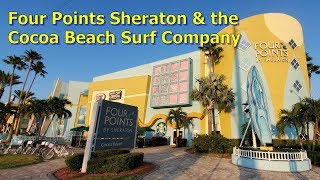 The night before our last Disney cruise from Port Canaveral we stayed at the Four Points Sheraton in Cocoa Beach which is part of the Cocoa Beach Surf Company building. What a fantastic concept as the hotel lobby and restaurant is adjacent to the surf shop.
This hotel is located just a few blocks to the beach and a short distance to the cruise port. We really enjoyed walking around the area which includes Ron Jon Surf Shop which is right next door and the Cocoa Beach Pier is just down the road. With everything going on around it, this has to be one of the best places to stay in Cocoa Beach.
The hotel rooms are clean and spacious, parking is easy in their parking garage and the food is good at their on-site restaurant. There is even a Starbucks to go along with the hotel and surf shop.
The Sheraton Four Points Cocoa Beach is perfect for an overnight stay as well as a beach weekend. We paid less than $100 for our one-night stay and thought the hotel was a really good value for the money. You can be sure that we will be back to spend more time here.
FOR HOTEL RATES AND AVAILABILITY AT THE SHERATON FOUR POINTS:
https://bit.ly/33M9hS6
► SUBSCRIBE NOW FOR MORE – https://bit.ly/2Ne5c3k ◄
► VISIT OUR BLOG – https://EndlessSummerFlorida.com ◄
► THEME PARK TICKET SALES – https://bit.ly/2GTWQZr ◄
► AMAZING FLORIDA HOTELS – https://bit.ly/36vGzqr ◄
► FLORIDA THEME PARK INFO – https://bit.ly/2C6A5A2 ◄
ENDLESS SUMMER is all about amazing things to do when on vacation in Florida. From world class theme parks in Orlando, amazing white sandy beaches along the west coast, sizzling nightlife in Miami and or outstanding fishing & diving in the Florida Keys, there is something for everyone in Florida.
Stay connected with ENDLESS SUMMER.
► WEBSITE – https://EndlessSummerFlorida.com ◄
► FACEBOOK – https://bit.ly/2NAte7B ◄
► INSTAGRAM – https://bit.ly/33c9BZP ◄
Interested in owning a vacation property or second home in Florida? There are a number of great options for you to consider across all budgets and for all lifestyles. There are many wonderful places to spend some quality family time while earning income from short term tenants.
To learn more about a vacation property or second home in Florida? Visit: https://bit.ly/2PEWZXr