Grapevine Cafe & Green Turtle Market in INDIAN HARBOUR BEACH, Melbourne FLORIDA
Grapevine Cafe & Green Turtle Market in INDIAN HARBOUR BEACH, Melbourne FLORIDA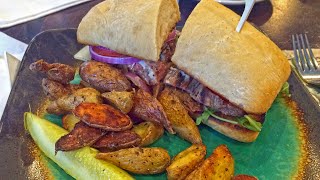 We take a short road trip to Indian Harbour Beach in Melbourne Florida for the Grapevine Cafe and Green Turtle Market. The Cafe has delicious food and the market is bursting at the seams with gourmet foods, deli, meat counter, baked goods, handmade candies, and OMG, FREE BEER. Yes, FREE Landshark BEER on tap to enjoy as you walk around the market. I was too excited to get footage, but they do have FREE BEER!
At the cafe, we both ordered the Coriander-garlic marinated Steak Sandwich:
Grilled tender steak, arugula, tomato, onion, provolone cheese & balsamic aioli on a ciabatta or in a wrap served with rosemary roasted potatoes or beachside potato salad $13.99.
It was VERY good and the portion was HUGE. The steak was the most tender steak I've ever had in a sandwich from a restaurant. Usually, I only get this kind of quality at home.

Address: 855 E. Eau Gallie Blvd., Indian Harbour Beach, FL 32937
Phone: 321-773-2001
Market: Mon-Sat 9am – 7pm • Sun 11am – 5pm
Cafe: Mon-Sat 11:30am – 2:15pm • Sun 11am – 2:30pm