Holiday Inn Vacations Club | Port Canaveral, FL
Holiday Inn Vacations Club | Port Canaveral, FL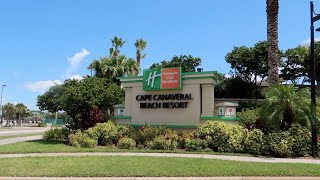 We stayed at the Holiday Inn Vacations Club in Port Canaveral, FL. It is right by the cruise ports and good place to stay before or after you cruise.
#portcanaveral #Echotraveladventures #Holidayinnvacationsclub
One of the songs you hear is:
You're free to use this song in any of your videos, but you must include the following in your video description:
Beach Party – Islandesque by Kevin MacLeod is licensed under a Creative Commons Attribution license (https://creativecommons.org/licenses/by/4.0/)
Source: http://incompetech.com/music/royalty-free/index.html?isrc=USUAN1100613
Artist: http://incompetech.com/
About us:
Welcome to our channel. We are Brian, Amber and Echo. We created this channel to offer our first person experiences with places that we visit. We are excited to share our lives with all of you. Please always remember to like our videos, subscribe to our channel and follow us. Have a great adventure!
Follow us on:
Instagram: EchoTravelAdventures
Facebook: EchoTravelAdventures
Support Us On:
Paypal: Echo Travel Adventures
Products:
Canon PowerShot G7 X Mark II Digital Camera:https://amzn.to/2pl5PLz
iGadgitz Mini Tripod: https://amzn.to/2xlUY8w
Gonex Tactical Military Backpack: https://amzn.to/2xrVQbR
VILTROX Video Light: https://amzn.to/2xLDmm6