How To Use Public Transport in Melbourne | Using MYKI
How To Use Public Transport in Melbourne | Using MYKI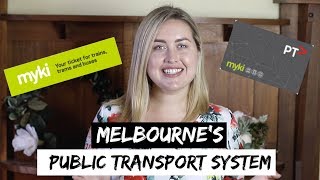 Public transport in Melbourne is super easy once you understand how it works. So in this video Our host Jocelyn Wardle (https://instagram.com/joc_patricia) explains you how to use public transport in Melbourne, how do you travel in Melbourne trains , trams and buses? This video is all about how to use Public transport in Melbourne using PTV MYKI card.
Our host Jocelyn Wardle has some great tips for travelling on Melbourne's train, trams and buses! All you need is a myki card, the information about how to use the myki card is in this video!
So, if you dont know how to use Myki card or how to travel in Melbourne in Public Transport, this video is for you.
Register your MYKI here: https://www.mymyki.com.au/ntswebportal/common/register/RegistermykiAnony.aspx?menu=Register
MUSIC :
Silver
CAMERAS :
Canon 70D https://amzn.to/2Rwrf4n (main camera)
Go Pro Black Hero 5 https://amzn.to/2RzcoGC
Tripod https://amzn.to/2RzcldU
LENS :
Canon 50mm https://amzn.to/2Rw1jWE (main lens)
Canon 18-55mm https://amzn.to/2RrBNBG
Sigma 24-70 mm https://amzn.to/2Ryogsm
LIGHTING :
Studio Box Lights https://amzn.to/2Rylxix
Instagram https://instagram.com/melbourne.vibe
Facebook https://facebook.com/melbournevibe
Twitter https://twitter.com/melbournevibe