KEY WEST in 48 hours: WHERE TO STOP ON THE FLORIDA KEYS!
KEY WEST in 48 hours: WHERE TO STOP ON THE FLORIDA KEYS!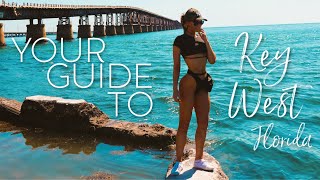 What to do and where to stop down The Florida Keys, Miami.
Join us on our road trip from Miami to Key West in a Mustang Convertible! We show you all our favourite places on Key Largo, Islamorada, Big Pine Key and of course Key West.
Key West is one of our favourite places in the world and we're actually hoping to have our wedding there in 2021, so I hope you enjoy this video as much as we did filming it and traveling down the Keys! I would highly highly recommend doing this road trip everything about it is absolutely amazing.
Thank you so much for tuning in to our travel vlog! We really hope you enjoy it.
If you like our videos please hit the Like and the Subscribe button so we can start to grow our channel.
We will be posting a new video every week.
FOLLOW US FOR FOOD PICS AND LIFE UPDATES
Instagram: @fitwaffle https://www.instagram.com/fitwaffle/
Business Inquiries: wafflefit@gmail.com
All our footage for this trip was shot with a canon M50 setup.
If you like the footage we have added links below to the equipment we used:
Camera: Canon M50 https://amzn.to/2T2R1yy
Lens: Canon 10-18mm https://amzn.to/2HjBLff
Lens: Canon 22mm https://amzn.to/2DGFAqJ
Mic: Takstar SGC-598 https://amzn.to/2TZkklE
Handle: Manfrotto Pixie tripod https://amzn.to/2T1kNDI
TIP: The Manfrotto Pixie tripod is perfect for these lenses but for heavy lens get the next weight class up.