Landscape Design Principles | Front Courtyards
Landscape Design Principles | Front Courtyards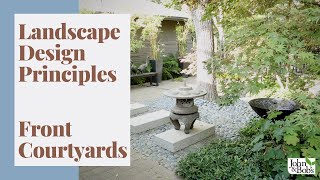 Landscape Design Principles | Front Courtyards // Are you curious to learn how you can make the most effective and beautiful front courtyard that is both inviting and practical? Then this is the video for you! John M. Valentino and Chip break down what themes and principles they consider when creating a courtyard, and how to keep plants and soil healthy and happy even when planted in pots and small, frequently traveled through areas. Using the tips in this video in tandem with John & Bob's smart soil products you will be able to create a healthy and inviting outdoor space! If you find this video informative and want to learn more about organic soil products, then be sure to check out our website (www.johnandbobs.com) and follow us on social media!
www.johnandbobs.com – CHECK OUT OUR WEBSITE!
@johnandbobs – FOLLOW US ON FACEBOOK/INSTAGRAM/TWITTER!
soil, gardening, garden, garden soil, organic, garden tips, compost, food, soil food web, johnandbobs, john & bobs, john & bob's, maximize, optimize, nourish-biosol, blend, penetrate, smart soil solutions, DIY, tutorial, how to, improve soil, garden, grow something, soil food, organic matter, self sustaining, microbiological life, chip, chip chat, fresno, clovis, front yard, courtyard, front courtyards, design principles, outside space, outdoor space, remodel, renovation, yard transformation, landscape design principles, extending the house, outdoor rooms, simplicity,
Music: www.bensound.com
https://youtu.be/BzfmpmIM9zk