Miami with Kids!!! Everglades, Little Havana, Beaches | Miami, Florida | Adventure TWENTY-THREE
Miami with Kids!!! Everglades, Little Havana, Beaches | Miami, Florida | Adventure TWENTY-THREE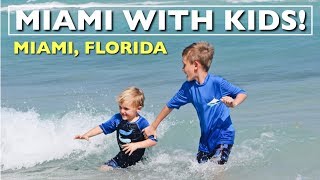 Miami is definitely a hot spot for parties and clubs. However, we were pleasantly surprised with how wholesome we could make a family adventure with our "ABCs" here.
Being so close to the Everglades, we couldn't resist the opportunity to ride on an airboat through the wetlands. The ride was exhilarating and the amount of wildlife we were able to encounter was amazing. We were literally less than two feet away from enormous alligators in their natural habitat! Definitely worth the visit! https://www.evergladestours.com/
Culture is so important for the shaping of all our hearts, so on this adventure we took the kids to Little Havana. Little Havana is a vibrant Cuban neighborhood in Miami. We marveled at the Cuban art, tasted the delicious traditional food, and cherished talking with people in the area. What a beautiful culture! http://www.miamiandbeaches.com/places-to-see/little-havana
The Beaches. They are GORGEOUS! Soft sand, gentle waves, a fun sand bar to swim to, clear water. Need we say more?
*Traveling ABCs Adventure Tips*
– Traffic. Allow for extra time to get anywhere! The traffic was thick no matter the time of day. Pack some extra patience.
-We stayed a bit north of south beach as we wanted to keep the trip a little more pure and wholesome for those little eyes.
Thank you for watching and reading! Please SUBSCRIBE to our YouTube Channel to see our weekly adventures. 
Happy Adventuring!
Love,
Todd, Danielle, and our ABCs (Asher, Bentley, Beckham, and Cadence)
Instagram: https://www.instagram.com/travelingabcs/
About Us: https://www.travelingabcs.com
© travelingabcs 2018