Ms Apples Crab Shack Cocoa/Merritt Island is a Seafood Legend!
Ms Apples Crab Shack Cocoa/Merritt Island is a Seafood Legend!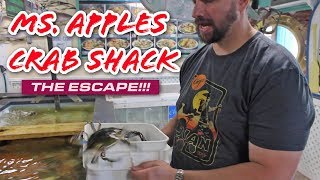 Please Subscribe!!
https://youtube.com/c/dadgotthis/?sub_confirmation=1
If you are lucky enough to be in the Cocoa/Merrit Island Florida area please do yourself a favor and visit Dad's favorite seafood spot. Ms Apples Crab Shack.
Technically it is in Merritt Island but most people I know of says it's in Cocoa which is not Cocoa Beach. I know it's all really confusing. What isn't confusing is the menu, crabs and fresh seafood.
You pick live crabs can take them home or have them steamed on site and eat them right there. Dad and his family have been going here since forever!
Don't forget to order the shrimp with Garlic Butter. Dad would eat a shoe if it was in Ms Apples Garlic Butter.
Dad's on the web:
http://www.dadgotthis.com
Dad's on Facebook:
http://www.facebook.com/dadgotthis
Dad's on Instagram:
http://www.instagram.com/dadgotthis
Products used in the video:
I make a small commission if you use the provided amazon links.
Instant Pot LUX60V3 V3 6 Qt 6-in-1 Multi-Use Programmable Pressure Cooker, Slow Cooker, Rice Cooker, Sauté, Steamer, and Warmer
https://amzn.to/2ll9fj2
AMAZON AFFILIATE DISCLAIMER
Dadgotthis.com is a participant in the Amazon Services LLC Associates Program, an affiliate advertising program designed to provide a means for sites to earn advertising fees by advertising and linking to amazon.com.
Royalty Free Music: www.bensound.com