Orlando Melbourne International Airport (MLB) — Quick Terminal Tour
Orlando Melbourne International Airport (MLB) — Quick Terminal Tour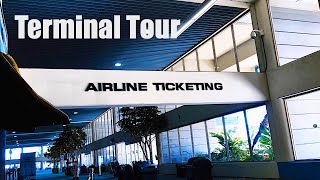 Hello, everyone. I visited the Orlando Melbourne International Airport to film b-roll footage for upcoming videos planned in the new year. I figured that many airport/airplane aficionados like me would enjoy watching my compiled footage in a special upload separate from my vlogs.
I filmed this footage on Saturday, December 30, 2017, in the landslide area of the domestic departures terminal at the Orlando Melbourne International Airport. Traffic was visibly quiet. The only crowd I saw appeared when an American Airlines flight from Charlotte arrived mid-afternoon.
I will type in time-stamps in the comment section below for each of the points-of-interest featured in this video.
__________
FILMING DETAILS //
Camera: Canon EOS Rebel T6 (opening scene); iPhone 6s (all other scenes)
Editing Software: Final Cut Pro X
__________
SOCIAL //
Follow Adrian on the following social media platforms:
Facebook — https://www.facebook.com/AdrianDHolmes
Twitter — https://twitter.com/AdrianDHolmes
Instagram — https://instagram.com/AdrianDHolmes
To learn more about Adrian, visit his official website
https://www.AdrianDHolmes.com/
__________
MUSIC CREDITS //
"Disco Medusae" Kevin MacLeod (incompetech.com)
Licensed under Creative Commons: By Attribution 3.0 License
http://creativecommons.org/licenses/by/3.0/
__________
CONTACT //
Send fan mail and written correspondence to:
Adrian D. Holmes
P.O. Box 110864
Palm Bay, Florida 32908
Direct all business inquiries or video permissions request to:
development@adriandholmes.com
__________
Thanks for watching this video! If you like what you've seen, like this video and subscribe to this channel for more exciting content.
**NO PORTION OF THIS VIDEO MAY BE USED WITHOUT WRITTEN PERMISSION FROM SKIP WILSON MEDIA OR THE ADRIAN D. HOLMES TEAM.**