Pub Americana Melbourne Florida!
Pub Americana Melbourne Florida!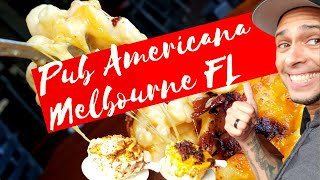 In this episode, we visit Pub Americana in Downtown Melbourne Florida. This is an exciting episode not only because we get to try some of the signature mac and cheese dishes, but we also talk about getting ready to have food tours in Melbourne Florida.
924 E New Haven Ave,
Melbourne, FL 32901
(321) 802-6500
Sunday
11AM–9PM
Monday
Closed
Tuesday
11AM–9:30PM
Wednesday
11AM–9:30PM
Thursday
11AM–9:30PM
Friday
11AM–12:30AM
Saturday
11AM–12:30AM
Have you had a chance to eat at Pub Americana? Leave a review for them here!
https://www.villagefoodtours.com/places/pub-americana//
Follow them on Social Media
https://www.facebook.com/Pub-Americana-1422479951380199/
https://www.instagram.com/pubamericana/
About The Host:
My name is Halim Urban. For the last 20 years, I have been working in the restaurant industry. Sushi Chef, Dishwasher, Server you name it in the industry I have done it. In 2018 I founded Village Food Tours with a mission to bring together through the universal language of food at the same time positively promoting the people of the industry that I consider family.
I focus a great deal on food and family-friendly trips, as you probably have seen! I love to experience all types of different food, from casual to fine dining. I'm also passionate about being an ambassador for the areas I run my tours in as well as providing social media marketing consultation.
Need to reach out to me
Email halim@villagefoodtours.com
Follow Me
https://www.instagram.com/halimwitit/
https://www.linkedin.com/in/halimurban/
About Village Food Tours
Village Food Tours is a family-owned business that offers walking food tours in Brevard County Florida. Tours provided consists of a 3-hour walk sampling unique food from at least 4 restaurants. On the tour, you get a chance to meet the chefs, owners, and people behind the dishes, and the stories about those dishes. In addition, to satisfying your appetite we will quench your thirst for knowledge about what makes the area unique, its history, where to go, and maybe even a ghost story or two.
Tours can be booked online at
Follow Us:
+ INSTAGRAM ► https://instagram.com/villagefoodtours
+ FACEBOOK ► https://www.facebook.com/villagefoodtours
+ Pinterest ► https://www.pinterest.com/VillageFoodTour/
+ THE BLOG! ► https://www.villagefoodtours.com/blog/
Contact Us:
+EMAIL ► info@villagefoodtours.com
P.S. Thank you for watching our videos and subscribing!
In this Episode Halim visits Brasas Brazilian Steakhouse in Merritt Island Florida for the lunch special featuring a Beef On A Weck.