Satellite Beach, Florida ⭐️🌎 AMERICAN CITIES 🌎⭐️
Satellite Beach, Florida ⭐️🌎 AMERICAN CITIES 🌎⭐️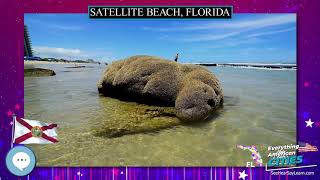 ⭐️🌎 AMERICAN CITIES 🌎⭐️
YOUTUBE SUBSCRIBE http://www.youtube.com/c/SeeHearSayLearn?sub_confirmation=1
In this video series we're covering everything about every city in the state of Florida in the United States of America.
Satellite Beach is a coastal city situated in Brevard County, Florida. The population was 10,109 at the 2010 United States Census, and it is located with the Atlantic Ocean to the east and the Indian River to the west.
If you have time, please comment about your city or some type of unique piece of information you'd like to share. You could share something trivia related, or even a spot you find amazing.
Here's a couple great products you might find useful.
The Death and Life of Great American Cities
https://amzn.to/3k0L81M
Ghost Towns
https://amzn.to/3hjJfeO
The Coolest Places on Earth: The Coolest American Cities
https://amzn.to/3iexYh6
If you like finding gold these are some great detectors.
Minelab GOLD MONSTER 1000
https://amzn.to/2Rdkne1
Minelab GPZ 7000 Gold Nugget Metal Detector
https://amzn.to/2GNbhmv
Trending Audible Books
https://amzn.to/3kxKV7m
Link to Amazon.com
http://amzn.to/2hFyI1h
The links above takes you directly to Amazon.com and in return they help fund what we do here and to further education for all those excited enough to want to learn. We thank you for clicking through our links.
THANK YOU for WATCHING, SUBSCRIBING, LIKING, COMMENTING, SHARING and DONATING!!!
It means a lot to my family!
Please visit www.seehearsaylearn.com
FACEBOOK FOLLOW
https://www.facebook.com/seehearsaylearn
TWITTER FOLLOW
Tweets by SeeHearSayLearn
YOUTUBE SUBSCRIBE
http://www.youtube.com/c/SeeHearSayLearn?sub_confirmation=1
PLEASE DONATE via VENMO for MORE EDUCATIONAL CONTENT and ENDEAVORS
https://venmo.com/SeeHearSayLearn
or donate via PAYPAL
www.paypal.me/KevMoCreative
Thank you so much!
This video series couldn't do what it does without the help of Wikipedia and its community along with so many other people to thank and we look forward to refining our product.