SEBASTIAN INLET AT MELBOURNE BEACH FLORIDA | Jet Ski Florida- Places To Jet Ski
SEBASTIAN INLET AT MELBOURNE BEACH FLORIDA | Jet Ski Florida- Places To Jet Ski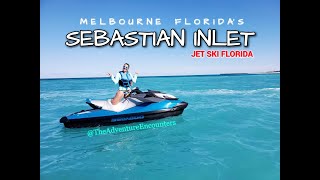 SEBASTIAN INLET, MELBOURNE BEACH FLORIDA- If your looking for some massive waves to jump on a jet ski or surf … do not miss out on Sebastian Inlet! We launched from Christenson's Landing (Free to lsunch), discovered the Sebastian Inlet Sand Bar….and immediately after entering the Sebastian Inlet, we encountered our first massive waves to jump on the jet ski!
⬇️ WIN AN SPF SHIRT ⬇️
➡ See it here: https://www.instagram.com/p/B_f_ljsDvX4/?utm_source=ig_web_copy_link
We created our very own SPF 30 Shirts and we are giving one away once we reach 2000 subscribers….ALL YOU HAVE TO DO:
1. SUBSCRIBE (if you haven't already)
2. COMMENT "SPF #2"
3. SHARE (share with your friends who like free things & a love for adventure…and tell them to rinse and repeat 😉)
4. Must be a US RESIDENT to qualify
GOOD LUCK!
➡️ Or just buy it now: https://etsy.me/3dtZZPk
🎥 Jet Ski Fort Desoto Beach (previous week)

——————————————————————————————————————————————————
🔥NEW ADVENTURE ENCOUNTERS GEAR🔥
➡ https://shop.spreadshirt.com/AdventureEncounters/
➡ Our custom SPF Shirts: https://etsy.me/3dtZZPk
* HELP US WITH OUR NEXT ADVENTURE* https://www.paypal.me/AdventureEncounters
*Try CyberLink Video Editor 30 Days FREE: http://www.anrdoezrs.net/click-9108586-13470342
——————————————————————————————————————————————————–
***Our Gear On This Adventure:
1. Go Pro Hero7 (Incredible video stabilization & waterproof): https://amzn.to/2IpXPDI
➡ Go Pro Fixtures (best price for A LOT of fixtures!)
https://amzn.to/2X2sH1b
2. Ubeesize Flexible Tripod (Great for phone & GoPro): https://amzn.to/2SUcRXi
3. Dry Bag Backpack: Always perfect for when we are headed out to anchor on a sand bar with the ski's and cant fit it inside the front storage box (filled with towels, camera, and extra clothes): https://amzn.to/2S4eP6B
4. Polarized sunglasses: Trust me when I say….riding a jet ski without glasses is a pain in the butt and we DO NOT SUGGEST RIDING WITHOUT THEM! Polarized will help a ton with the glare of the water…definitely a bonus and a must at times!
5. Ocean/ Reef safe SPF 50 – Loved the smell, does NOT give you that 'burning' sensation, water resistant up to 80 minutes, and most importantly, OCEAN FRIENDLY! https://amzn.to/2XVhKDL
6. SPF Shirts- knowing how intense the sun is here in FL, these are life savers in a pinch! We have our own personalized shirts (shoot me an email to order one)…we also Columbia shirts, super light, quick to dry, and protect perfectly! Nate & Blake's preference (mens) https://amzn.to/2SpiqLf , my preference (womens) https://amzn.to/2XPNdal
7. Shoes or Water Socks… A MUST! Excellent when you need to hop off your ski or boat..especially when you find those islands to get on and off and especially for the boat launch area!
———————————————————————————————————————————————
*Looking for MORE Adventure? Check out our INSTAGRAM: https://www.instagram.com/theadventureencounters/
**Want to CHAT with us? Email at: theadventureencounters@gmail.com
**Download the music we use for FREE: https://www.epidemicsound.com/referral/k0xqhe/
* Added videos we do not own:
– Surfing: https://youtu.be/FZhazGhevIA
– Jet Ski Jump: https://www.youtube.com/watch?v=aGNlDBsBhv0&feature=share
#AdventureEncounters #FLJETSKI #Florida