SECRET FISHING SPOT | MELBOURNE FLORIDA Melbourne Beach + Indian River
SECRET FISHING SPOT | MELBOURNE FLORIDA Melbourne Beach + Indian River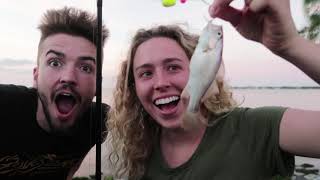 SECRET FISHING SPOT MELBOURNE FLORIDA
We got some fishing licenses a while back and decided to hit melbourne beach and see if we could catch anything surf fishing. We didn't have any luck fishing at melbourne beach but then we went and fished the indian river and caught a ton of catfish and a tiny fish. It was rae's second time fishing and we had tons of fun and got a ton of drone shots of st pete beach as well as melbourne beach and the indian river in florida.
SUBSCRIBE and LIKE if you enjoyed!!
MUSIC by:
SOCIAL MEDIA:
Instagram: josh_cook34
Snapchat: josh_cook
Twitter: joshcookyoutube