The Best Asian Restaurants in Melbourne | ChangGo, Jinda Thai and Chimac
The Best Asian Restaurants in Melbourne | ChangGo, Jinda Thai and Chimac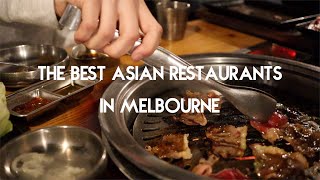 A compilation of all the best asian restaurants I have found during my time in Melbourne.
The best korean bbq restaurant I have found (in terms of food, location and value for money) was ChangGo on Little La Trobe Street. There is always a massive line there, so you have to be prepared to go early or wait 30 minutes to an hour for a table.
The best thai restaurant I found was Jinda Thai in Abbotsford. Again, usually always a wait to get a table, so we opted to go early so we didn't have to deal with a line. My favourite dishes are the chilli fried rice and the pad see ew.
Finally, my favourite hidden gem restaurant is a Korean-Mexican fusion restaurant in North Melbourne. I go with my friends pretty regularly, although we usually always order the same food comprising the bulgogi japchae, kimchi carnitas loaded fries, spicy pork bulgogi and korean fried chicken.
Obviously these are only a few of the endless amazing asian restaurants in Melbourne, but I just thought I would share some of my favourites.
The Leisure Club's instagram: https://www.instagram.com/the.leisureclub/
My camera gear used:
-My Camera | Canon M50: https://amzn.to/31D468f
-My Tripod | Manfrotto Mini Tripod: https://amzn.to/3jmeSWw
-My Mic | Rode Mic: https://amzn.to/3lmVkTI