The Wine Cellar, Melbourne Florida
The Wine Cellar, Melbourne Florida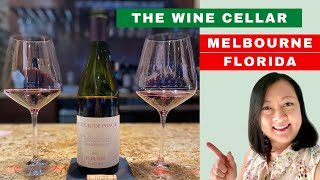 One of our favorites places to go for a night out, is The Wine Cellar in Melbourne, Florida. The atmosphere is charming and cozy, there is an excellent selection of wines from all over the world, the food is delicious, and the service is outstanding!
Jillian, the resident Sommelier, always provide excellent recommendations, so do ask for her recommendations! She will also educate you about the wine you'll be experiencing, which expands your knowledge.
The owners David and Valentina Dashi are so gracious, they make you feel like family. All these factors make The Wine Cellar a favorite amongst locals! If you are in the Melbourne, Florida area, do check out The Wine Cellar (Website: https://www.amicis-suntree.com/wine-cellar).
* Comment below – What's your favorite wine?
* Like. Share. Subscribe. Press the bell button to get notifications every time I upload a video.
* Come chat with me on www.Facebook.com/ayemarczincila