Top 21 Things you must do in Orlando, Florida
Top 21 Things you must do in Orlando, Florida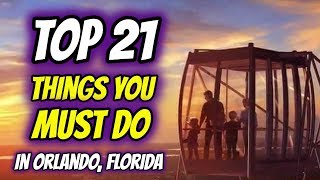 Top 21 Things you must do in Orlando Florida is our list of some of the great things to do in Orlando, Florida. Orlando is way more than just theme parks like Disney and Universal Studios, those are also great to definitely go do. But there are a lot of things you may or may not know about that you can do as well. And we have complied a list, there's even more but we had to have a cut off somewhere.
​
Check out things to do in Orlando at the link below.
The Orlando Eye http://www.orlando.com/attractions/orlando-eye.htm
Star Flyer https://starflyer.com/
The Florida Mall https://www.simon.com/mall/the-florida-mall
Sea Life Aquarium https://www.visitsealife.com/orlando/
Crayola Experience https://www.crayolaexperience.com/orlando
M & M World https://www.mymms.com/category/store-locations.do
Ripley's Believe it or Not https://www.ripleys.com/orlando/
Harry P. Leu Gardens https://www.leugardens.org/
Wonderworks https://www.wonderworksonline.com/orlando/
Orlando Prime Outlets https://www.premiumoutlets.com/outlet/orlando-international
Black Hammock Adventures https://www.theblackhammock.com/
Gatorland https://www.gatorland.com/
Winter Park shopping on Park Avenue http://www.experienceparkavenue.com/
Orlando Science Center https://www.osc.org/
Winter Park Scenic Boat Tour https://scenicboattours.com/
Swan Boats Lake Eola https://www.orlando.gov/Parks-the-Environment/Parks-Recreation-Neighborhood-Centers/Lake-Eola-Park/Rent-a-Swan-Boat-at-Lake-Eola
Orlando Ice Bar https://icebarorlando.com/
Hot Air Balloon Rides https://www.orlandoballoonrides.com/
Top Golf https://topgolf.com/us/orlando/
Andretti Karting and Gaming https://andrettikarting.com/orlando/
I-Fly Indoor Skydiving https://www.iflyworld.com/orlando/
Please give us a like, subscribe, comments and share if you could.
Thanks for watching and subscribing to us. Make it a great day because you deserve it.
Check out all of The Tourist Trap links below……..
Spreadshirt https://shop.spreadshirt.com/thetouristtrap/
Patreon https://www.patreon.com/thetouristtrap
The Tourist Trap on Twitter https://twitter.com/thetouristtrap1
The Tourist Trap on Facebook https://www.facebook.com/thetouristtrap407/