Top Things to Do in Orlando besides Theme Parks
Top Things to Do in Orlando besides Theme Parks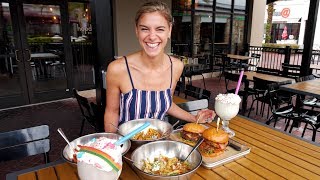 Disney is a place kids dream of but as an adult, my version of Disney is one in which I can sip on fine wine and beer and eat the most delicious food which is exactly what my visit to Orlando excelled at !
(0:00-0:15) Starflyer
(0:15-0:31) Winter Park Scenic Boat Tour
(0:32-0:50) The Charles Hosmer Morse Museum of American Art
(0:52-2:48) Gideon's Bakery.
(2:57- 3:17) Reyes Mezcaleria
(3:17-6:03) Hopdoddy Burgers
(6:04-6:17) Buttermilk Bakery
(6:18-6:54) Bulla Gastrobar
(6:56-7:01) The Wine Room
(7:03-7:30) The Ravenous Pig
(7:35-8:24) Plant Street Market
(8:24-8:33) Wine by George
(8:33-8:40) Enzo's Hideaway
(8:41-9:05) Jaleo
(9:06-9:25) The Edison
(9:34-9:48) Crooked Can Brewery in Plant Street Market
(9:49-9:59) Chocolate Pinata dessert at Uncle Julio's
Check out more on my Instagram via #CheatDayEatsOrlando
https://www.instagram.com/explore/tag…
♡ SUBSCRIBE AND FOLLOW ON MY OTHER CHANNELS BELOW!
instagram.com/CheatDayEats
Visit my blog: www.CheatDayEats.com
TWITTER www.twitter.com/cheatdayeats
FACEBOOK www.facebook.com/cheatdayeats/
Business Contact: Jessica@CheatDayEats.com
My name is Jessica Hirsch and I travel the world with my business partner and soulmate, Mr.CheatDayEats.
Together we visit different places all over the world to capture and bring to you the most amazing travel and foodie destinations.
As a sponsored Sony Alpha photographer, I spend countless hours editing and producing content for my audiences to enjoy on various different social media platforms. My youtube channel is a great platform for relatively longer versions of my videos that I create compared to my other channels.
I'm a foodie at heart and love to share with my audiences and that's why I decided to leave my teaching career as a high school math teacher in the Bronx in June 2017. There's a link below that goes more in-depth but my partner and I both started this in 2017 and our dream is to keep eating and travelling the world forever and sharing amazing content with you all.
Eating is a great way to connect with different people all over the world and you can learn a lot about a culture through the different food options they have. Everytime I pick a destination to travel, I always consider the culinary aspect behind that destination.
You'll find a steady mix of vlog style, travel 'feels' style videos, food reviews, and more on this page and I always respond to as many comments as possible on all my social media channels so I'd love to hear what you all have to say and maybe would like to see more/less of on my page(s)
What else do you want to see on my channel? Tell me in the comments below!