Touring a $5.8 Million Brand New Mansion in the Heart of West Hollywood with a Basement Courtyard!
Touring a $5.8 Million Brand New Mansion in the Heart of West Hollywood with a Basement Courtyard!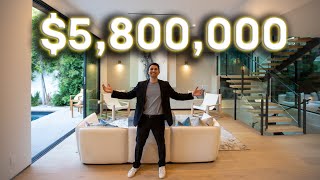 Brand New Construction in the center of the city in Los Angeles!
Subscribe here! https://www.youtube.com/c/darrenkriz?sub_confirmation=1
Add Me on Instagram:
@dkrizestates
Please Like and Comment! It helps out our channel and we have many more plans for future videos, currently posting Wednesday at 3:30pm PST and Sunday at 9am PST so stay tuned!
If you have any suggestions, ideas, or feedback, leave a comment. We read them all!
The man behind the camera.. Check him out!
Video by: @followraul
Business Inquiries:
darren@revelrealestate.com
Camera Gear Used:
Camera – https://amzn.to/2zplUZp
Drone – https://amzn.to/3cQlXuN
Mic – https://amzn.to/2NaTmWE
Where I get Copyright Free Music!
https://www.epidemicsound.com/referral/12v1iq/
Check out the rest of our channel for more mansion tours in Los Angeles!
West Hollywood is one of the most prestigious locations to live in Los Angeles and this home is specifically in West Hollywood West, one of seven residential neighborhoods in the city of West Hollywood. Walking distance to several well-known restaurants such as Catch, Craig's, and The Abbey. Just 5 minutes away from Beverly Hills to the West and Hollywood to the East, you are really in the direct center of the city! One of my favorite homes in probably the best location we have toured to date!
Listing Description:
Welcome to THE ASHCROFT, a Modern architectural masterpiece in the heart of West Hollywood West. Its neutral interior design, soaring-high ceilings, exquisite finishes, and beautiful outdoor pool create an effortless and sophisticated living space.Steps away from the most popular shops, restaurants, and nightlife including Catch, Craigs, The Ivy, and Robertson Plaza with a 91 walk score! With over 6000 sqft of beautiful entertaining space, a Daylight Basement, 2 Miele kitchens, Fleetwood throughout, Smart home system, Movie Theater, and more, this home is the ultimate compound West Hollywood has to offer!
Property Address: 8737 Ashcroft Avenue, West Hollywood, CA 90048
4 Bedrooms
6 Bathrooms
5,152 sqft
Price: $5,795,000
Listing Agent: Benyamin Illulian DRE#02003019
Contact Benjamin: https://illulianrealty.com/ – 310-867-0474