Training at Raise The Bar – Melbourne, Florida – 2017 Beach Bodies Classic
Training at Raise The Bar – Melbourne, Florida – 2017 Beach Bodies Classic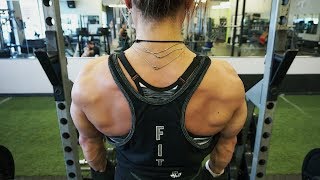 Whats up everyone!! What a fun weekend of bodybuilding!! I had the amazing opportunity to play beauty bae and swole mama for my friend Dache's show! She did amazing and was awarded 1 in figure and 2 in physique!! Then… we met up with one of my best friends and bridesmaids Natalie, and she whooped our booty. We went to raise the bar health and fitness in Melbourne fl to train back!! Natalie is a trainer there and also fed us some awesome meals from her meal prep company called the Nak Shack!! amazing fun weekend and crazy awesome workout. I encourage everyone to learn something new today.
subscribe: https://www.youtube.com/channel/UC2NB6YdnNfyV8F5shCbqJQg?sub_confirmation=1
Natalie's Company:
https://www.thenakshack.com/
https://www.instagram.com/thenak_shack/
Follow my journey on..
IG: https://www.instagram.com/lil_monstar_/?hl=en
Snapchat: https://www.snapchat.com/add/lil-monstar
Facebook: https://www.facebook.com/Danireardon.PRO
For the clothing in this video:
Use coupon code: "monstar10" to get 10% off
LIGHT PSYDE EDITION
IG: https://www.instagram.com/fithustleclothing
All music and sound provided by:
http://www.epidemicsound.com
Ya Man 3 – Martin Landh
Crawb Up – Martin Landh
Realm Of Gabriel 1 – Patrik Almkvisth
Shiny Happy Dishes 1 – Niklas Ahlström.