Lion King – Center Stage Performing Arts Academy
Lion King – Center Stage Performing Arts Academy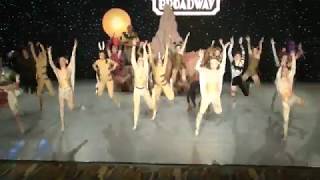 The Center Stage STARS Company performing a medley from THE LION KING at Access Broadway's 2013 Event in Biloxi, MS.
Featuring: Chandler Beaman, Annie Bonis, Skylar Boudreaux, Chris Bourgeois, Deanna Bourgeois, Madeline Bourgeois, Emma Boyd, Mandi Bryant, Lauryn Burt, Kaitlyn Cayette, Hannah Chiquelin, Gordon Coates (Soloist), Nick Costello (Zazu), Nicole Crochet, Matthew Deloch, Brittany Epps, Carly Gautreau, Jenna Gautreaux, Mackenzie Graham, Grace Graugnard, Madison Gregoire, Alyse Hollis, Bryn Hughes, Taylor Johnson, Courtney Jones, Madison Kent, Celeste Kling, Colbi Landry, Marissa Lass, Jade LeBlanc, Julia LeBlanc, Claire Legnon (Pumbaa), Madison Levy (Nala), Dallas Lipoma, Caitlyn Little, Macy Marionneaux, J'Acy Mayeaux, Erin Mayeux, Hannah Mayeux, Tessa Mayon, Madeline McCoy, Gracie McKinnie, Carley Oakley, Bryn Purvis (Rafiki), Blaise Putnam, Madeline Ringwald (Timon), Dwight Robinette (Simba), Olivia Sanders, Austen Schexnaydre, Mary Anne Sheffield, Anna Smith, Sarah Sonnier, Sarah Talbot, Luc Tuminski, Kathleen Vasterling, Audrey Watts, Jacelyn Wheat, Kaylon Wood
The Center Stage STARS Company is a dance and musical theatre troupe from Gonzales, Louisiana. The STARS Company performs at various events across the state and competes on a regional and national level. Members of the STARS Company are trained as triple threats to dance, sing, and act. In 2010, the STARS Company was awarded the Access Broadway National Cup for excellence in musical theatre performance. In 2014, the STARS Company returned to Access Broadway Nationals and was awarded the Las Vegas Cup for America's Best Dance School and the Broadway Cup for America's Best Performing Arts School in the same year. Center Stage Performing Arts Academy is the first studio to win both titles in the same year and win the Broadway Cup twice.