live2lead 2020 buy tickets October 9th John C Maxwell
live2lead 2020 buy tickets October 9th John C Maxwell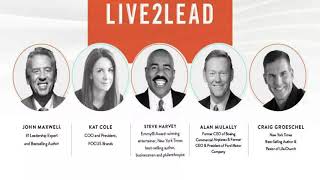 Price REDUCTION – https://www.live2leadevent.com Live2 lead event This October 9th, 2020 Don't buy your tickets anywhere else until you see our prices.
This year Live2lead buy tickets October 9th featuring John C Maxwell is going to be the best live simulcast show of the season.
Learn from world-class leaders.
You will learn from elite thinkers, including the #1 leadership expert in the world, John C. Maxwell, and gain leadership principles and personal growth techniques from their time-tested teaching.
Impact your sphere of influence.
Whether you lead a large organization or want to be a better mentor to those around you, you will gain meaningful and relevant insights so you can return home ready to implement your new action plan and lead with renewed passion and commitment.
Make meaningful connections.
This event is an opportunity for you to network with like-minded leaders who share your passion for leadership and learning. Make new connections or build on the ones you have during this event.
John C maxwell live2lead 2020 buy tickets October 9th — we have a special treat for you 2 breakout sessions with 2 John C Maxwell certified specialists.
Plus 2 free classes from www.freshtalent.com
take a look at this line up for live2lead 2020 buy tickets October 9th John C Maxwell
John C. Maxwell
John C. Maxwell, the #1 New York Times bestselling author, coach, and speaker who has sold more than 30 million books, has been identified as the #1 leader in business by the American Management Association® and the world's most influential leadership expert by Business Insider and Inc. magazine.
Kat Cole
Kat Cole is the COO of FOCUS Brands, North America. Prior to FOCUS Brands, Kat was President of Cinnabon, Inc. and a Vice President at Hooters at age 26, making her one of the youngest executives in chain history.
Steve Harvey
Mr. Harvey is known as the busiest man in Hollywood. But when he's not entertaining, he's a dedicated mentor and motivator.
Alan Mulally
Alan Mulally served as president and chief executive officer of The Ford Motor Company and as a member of Ford's board of directors from 2006-2014. Mulally led Ford's transformation into one of the world's leading automobile companies and the #1 automobile brand in the United States.Prior to joining Ford, Mulally served The Boeing Company for 37 years as executive vice president, and president and CEO of Boeing Commercial Airplanes and of Boeing Information, Space and Defense
Craig Groeschel
Craig and Amy Groeschel married in 1991 and have six children and three sons-in-laws. Craig and Amy started Life.Church in January 1996 and it has grown to include dozens of locations all over the United States.
https://www.live2leadevent.com is the best place to buy tickets for the live2lead 2020 buy tickets October 9th John C Maxwell
We have a drastic price reduction as well as 2 free gifts plus a bonus special offer !!!
all sponsored by www.freshtalent.com
#live2lead
#live2lead2020
#live2leadjohnmaxwell
#johncmaxwell2020