Waterfront Restaurant Florida Where You Can Watch Disney Cruise Lines Sail Past
Waterfront Restaurant Florida Where You Can Watch Disney Cruise Lines Sail Past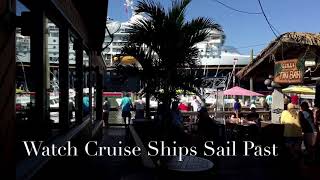 Grills seafood deck and tiki bar in Port Canaveral, located near cocoa beach and the Orlando attractions. The Disney cruise ship and other ships sail pass on the waterfront in the mornings and afternoons. Top 10 things to do in Florida. Best experience in cocoa beach. The waterfront Florida lifestyle. Visit Florida, visit Port Canaveral, and visit Cocoa Beach.
The observation deck is also popular for falcon heavy spaceX rocket launches.
Grills now has three waterfront restaurant locations in Orlando, Port Canaveral and Melbourne Florida. Filmed in March 2018.