Woodspring Suites August – Tinley Park
Woodspring Suites August – Tinley Park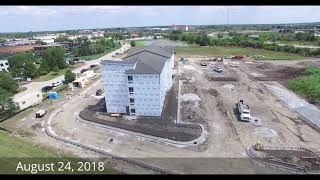 Holladay Construction Group broke ground on the four-story, 48,000 square foot WoodSpring Suites extended-stay hotel in Tinley Park in May 2017. During the month of August HCG Subcontractors logged approximately 6,900 manhours at the project site. This drone video was shot by HCG Project Manager, Scott Brown.
Holladay Construction Group, LLC, also known as HCG, was officially formed in 2007, but we have been providing quality general contracting services for over 50 years. We are a stand-alone general contractor, construction management, and design/build firm with offices in Indianapolis, Indiana; Portage, Indiana; South Bend, Indiana; and Nashville, Tennessee. We have a dedicated team of project managers, LEED certified construction managers, construction superintendents, accounting staff and administrative staff on hand to ensure a project's success.
We pride ourselves on creating solutions and building relationships for some of the biggest names in the country, including: Graybar, Subway, Fronius USA, Pepsi, Epiphone, Hubbell/RACO, Chase Plastics, Republic Airway Holdings, Baldor Electric, Pattonair, Purdue Research Foundation, HCP Inc., Bridgestone, and many more!
HCG has completed projects for thousands of clients. Our low overhead and ability to manage and coordinate the general construction process ensures that our team can provide the most efficient and economical construction packages in the industry.
We offer construction services to all businesses, regardless of the size, scope, or nature of the project for buildings of all types, including: Office, Industrial, Aviation, Sports & Recreation, Retail, Hospitality, Medical & Senior Care, Religious Institutions, Education Centers & Student Housing, and Multi-Family Residential.
Building quality projects is the backbone of our company. Building quality relationships with our client-partners is just as important as the projects we create. We offer a variety of construction services that are tailor-made for each project. When you select HCG as your partner, we will work with you to build a customized solution for your facility needs.
Our services include: Design/Build, General Contracting, Owner's Representation, Construction Management, Pre-Construction Consulting, as well as Comprehensive Energy Audit & Remediation.
Let us focus on construction so you can focus on your business!
Find out more about HCG, visit us on the web: www.holladayconstructiongroup.com.